Introduction:
In this article, I will be talking about the top 4 free traffic sources for your website. Awesome! We all love something that is free.
I included my top 4 free or organic traffic sources for your website and did not include the most commonly used and know social media platforms like Facebook, Instagram, Twitter and the like. I will be talking more on other traffic sources that you can make use of that are as good and effective as the other commonly used traffic sources.
How to get free traffic to your website?
Website traffic is the main core of your online business, I would say. An online business without web traffic is a dead business. It is the same as having a physical restaurant without a customer. What would happen then?
The business doesn´t exist in the eyes of the public so the business will close. So you need to get traffic to your website to monetize it. Who doesn´t love free web traffic right? I have summarized my top 4 FREE WEB TRAFFIC SOURCES. This does not include what the people commonly know like Facebook, Instagram, Twitter, and other social media platforms.
These top 4 Free traffic sources are all proven ways to drive traffic to your website. I believe people overlook these free traffic sources because of the popularity of other traffic sources like Facebook, Instagram, and Twitter. But what I will be covering below are all useful and growing traffic sources that you can make use of. It´s even free! So let´s get started.
Top 4 free traffic sources that you can use to drive traffic to your website.
1. Organic SEO
SEO stands for SEARCH ENGINE OPTIMIZATION. To get web traffic through SEO, you need to make use of keywords related to your niche. Target the right keywords so your article or blog will appear on search engines when people will type what they are looking for. Your search engine ranking may take time before you will see results but as long as you will follow simple things then there is a chance you will get ranked by search engines like Google. So go ahead and create high value and stunning article that is helpful to the audience. like posting valuable contents and at
 least a minimum of 1500 words
 use keywords and phrases
Try to target long-tail keywords as compared to short keywords. For example, it is more difficult to get rank on a two-word keyword like "affiliate marketing" than a long-tail keyword like "affiliate marketing for beginners". So focus on targeting long-tail keywords instead of short ones. I hope you get my point here. Try using the keyword research tools below to get some ideas on what keyword to target for your article or blog.
Keyword Research Tools

Google keyword planner (Free to use)
Uber suggests (Free to use)
Jaaxy (Free and paid plan)
SemRush (7 day trial period)
KWfinder (10-day free trial)
Market Samurai (Free and paid plan)
2. YouTube.
This is a powerful tool that most people ignore. What´s sweet is it´s even free to create a YouTube channel. Though I understand that not all have the confidence to show there face and start talking, hey many successful Youtubers don´t show there face and yet their videos are getting tons of views and likes.
This social media tool is powerful in getting free traffic to your website or to any online business you are promoting. You can get free traffic on YouTube by writing in the description below your video your links (website links or affiliate links or whatever you are promoting) so people can just click the link if they want to visit your site.
Getting started with YouTube may sound complicated and intimidating than it seems. It is easy actually to start your YouTube channel.
Useful tips to start and grow your YouTube channel.
Try making valuable videos related to your niche or you can promote or give reviews of the products or programs you are promoting.
Post videos regularly. It may be slow and difficult to get subscribers at first but hey, that is normal at the start. Slowly your YouTube channel subscribers will grow.
The main point is to start it NOW!
Tools and Software to start your YouTube channel
You can make use of Camtasia and Snagit for your screen sharing video.
To start making videos you can check Content Samurai, it´s an easy and user-friendly tool that helps you make videos in less than a minute.
Doodly
—–Create an awesome video with Camtasia —-
—–Create an awesome video with Free Trial Content Samurai—-
3. Social Sharing and Opt-in forms.

Use social sharing and opt-in forms on your website. People who visit your website will likely not visit again or not even remember your site. So the best way to lock them in is to collect their email by using opt-in forms. You most likely saw different opt-in forms on websites you have visited and likely have entered your email address to one of those.
You can position your opt-in forms on the header, sidebar or at the bottom. You can strategically position them according to your preferences or try doing a split test on which opt-in position converts the most.
Growing your email list is one source of free website traffic. You can easily retarget and send them newsletters or promote anything to your email list. Make sure to provide valuable articles and useful tips and don´t just spam them with your affiliate links. Otherwise, they will end up unsubscribing on your email list. You don´t want that to happen for sure. Build a relationship and provide value that will help your audience solve their problems or help them with their current situation.
In growing your email list, you need an autoresponder where you can use to collect and send automatic emails to your list. Believe me, you do not want to do this manually. You can check Getresponse, it is user-friendly and it is what I am using for my email marketing. So far, so good. I have no regrets using Getresponse.
Social sharing are those social media buttons you see on top, below or sidebar of websites. These are very useful tools to add to your plug-in where people can easily click those social media buttons and be shared on their social media platforms.
4. Pinterest

Pinterest has been growing exponentially and yet many people are not aware of these free online traffic sources. Just like YouTube, it is free to sign-up and make an account on Pinterest. The technique to grow your followers is to make use of tailwind. Tailwind is a pin scheduler for Pinterest and Instagram. You can also grow your website traffic by using Tailwind´s Tribe and Samrtloop features. It is free to join tailwind. They both have a free and paid plan but you can start with Tailwind´s free feature with limited pins per month. Try it and see it for yourself how your website traffic will grow, that´s for sure. I am using this method and never regretted the time I came across this app.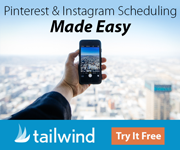 Pinterest is an online search tool and I suggest doing the following to successfully grow your Pinterest followers and increase traffic to your Pinterest pins.
 Make use of keywords as well when writing board or pin descriptions. Same with SEO, you can use the free keywords research tools to find keyword ideas to use on your description.
Make use of the free tool called Canva to make eye-catching images for your Pinterest pins. Canva is free to use, and besides, you can use Canva to make your YouTube thumbnails as well and any other images that you can use to promote your business or products on social media.
Besides, Canva has free and paid templates and photos to use. You can even upload your own photo if you prefer using them. Canva can define your image sizes depending on what your product is all about if you are making YouTube thumbnails, Pinterest pins or images for Facebook.
Conclusion: All the above-mentioned ways to get traffic to your website are free. It is Free to sign-up for YouTube, Free to make use of organic SEO, Free social sharing and Free traffic on Pinterest. Furthermore, there are tools, software, and app that you need to use to get started or to boost your free traffic sources.
These apps, software, tools and the like can be free, paid or with a free trial. It all depends on your business goal and preferences if you want to make use of it for a better traffic experience.
Affiliate Disclosure: This article contains affiliate links. I get a small commission for every successful sale or sign-up WITHOUT any additional cost to you.