What is GrooveFunnels? In this blog post, I am going to walk you through software and tool called GrooveFunnels. You will learn what is a GrooveFunnels? Review, features and pricing plan.
GrooveFunnels is a funnel builder software just like Clickfunnels, Builderall, Kartra, and the like. Below you will learn why you want to choose and switch with GrooveFunnels.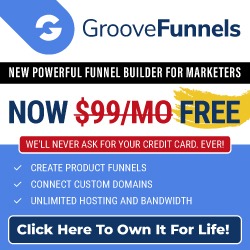 You might be probably looking for an alternative for Clickfunnels to create and build your funnels or other sales pages. I know how pricey is Clickfunnels, you can read my review about Clickfunnels here. 
So read through my blog post and know if Groovefunnels or GroovePages is the best alternative for Clickfunnels.
Due to the pandemic and uncertainties, we are facing, Mike Filsaime and the other men behind GrooveDigital have decided to offer the GrooveSell and GroovePages Lite Plan for free but for a limited time.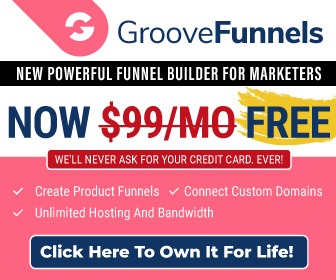 So what is GrooveFunnels? Review, features and pricing plan.
Groovefunnels is developed by Groove Digital. GrooveFunnels include three other tools and software called GroovePages, GrooveSell, and GrooveEmail.
GrooveFunnels is a funnel builder. You probably are asking what a funnel is. A funnel is a marketing tool being used to collect leads and transform those leads into buying customers. I have written a complete review of what a sales funnel here. And you can read also how to create and use a sales funnel into your business here.
Affiliate Disclosure: This blog contains affiliate links. I get paid with a certain commission for every successful sale or sign-up WITHOUT any additional cost on your part. I am an independent affiliate marketer and is not in any way related to the personalisties and companies mentioned in this blog post.
 Groove Funnels is not your typical funnel builder platform. GrooveFunnels offer much more than just a funnel.
The men behind GrooveFunnels are Mike Filsaime (Co-founder of GrooveDigital and he is an expert in the software and marketing tool niche. The other one is John Cornetta (He is an expert in the print on demand (POD) and Ecom Space.) Mattijs Naus known as the CTO of GrooveFunnels, Matt Serralta (one of the co-founders of GrooveDigital and has expertise in e-Commerce)
GrooveFunnels features
Inside your GrooveFunnels dashboard, you will get all access to Groove Digital products.
1. Groove Pages.
What can you do inside Groove pages? Groove pages let you create your new site, landing pages and you can create an entire funnel.
Groove Pages has predefined themes that you can easily edit and customize according to your business and preferences.
2. Groove Sell
 What is GrooveSell? Groove Sell is your online store. If you have products to sell, then this is the platform you will be using to sell your products.
This is the better platform to sell your digital products. With the 1-click feature, upsell and order bumps, you can easily skyrocket your ROI with GrooveSell.
 Inside your GrooveSell Vendor Dashboard, you have an overview of your online store. You can easily see and manage your sales, new sales, revenue, commission, profit, refunds, and many more.
What are the GrooveSell Features? 
No Monthly Fees (Awesome offer!)
Unlimited Product Funnels
Analytics and Data
Unlimited Products and Funnels
Flexible Pricing Structures
Powerful checkout options
Dynamic thank you pages
Upsells, Downsells, and Order Bumps Features (These features will increase your income for sure!)
1-Click Upsell Feature
Robust Integrations
You can integrate and use other payment gateways like PayPal, Stripe, Authnet and many more
and many more! Sign-up and check it out.
3. Groove Affiliate
 Once you are sign-up or once you have created an account with GrooveFunnels, that makes you an affiliate of the software and tool automatically.
 What is Groove Affiliate? This entitles you a 40% recurring commission plus another 10% tier 2 affiliate commission if you a Platinum Member. If you have the free plan, Silver and Gold account then your commissions would be 20% and 5% respectively. Isn't that awesome to have a recurring commission which means you are building a passive income once you are sign-up and start promoting GrooveFunnels.
GrooveAffiliate dashboard let's you have an overview of your referrals, sign-ups, commissions, etc.
4. GrooveMail
 Upon writing this article, Groove mail is still due to be available sometime this July.
 GrooveMail is your email marketing must-have tool. If you want to use other email autoresponders, then you can easily integrate other tools with GrooveFunnels. You can easily do this on the integration button on your dashboard.
5. GrooveMember
 What is GrooveMember? GrooveMember is your members' only area. Yes, you can host your members' only site with GrooveFunnels.
6.GrooveVideo
You can make any videos that you created as your powerful marketing tool, you can capture leads and share them on social media platforms.
Other GrooveFunnel Features that are set to launch on the future are:
7. GrooveBlog
With GrooveBlog, you can easily create your blogging site, this is like your WordPress inside GrooveFunnels where you can easily publish blog articles, audio content, or even videos.
8. GrooveWebinars
 With this coming GrooveFunnels feature, you can easily host and stream live or automated webinars on this platform.
9. GrooveDesk
GrooveDesk is like your customer's area where you can easily manage your transactions.
10. GrooveCalendar
This is your organizer and events manager. You can schedule meetings, consultations, and the like inside your GrooveCalendar.
11. GrooveSurveys
 GrooveSurveys allows you to have more engagement with your customers by doing quizzes, surveys, and other interactive events.
GrooveFunnels Pricing and paid plans
Ok, so let's take a look at GrooveFunnels Pricing and plan.
As of now, GrooveFunnels is offering FREE LIFETIME access to the GrooveFunnesl Lite Plan. Yes, This is a limited time offer, as of writing this article the FREE LIFETIME offer of the Lite Plan or the Basic plan is still available.
Below is the comparison of the GrooveFunnels Pricing Plan. You can see the Lite plan which is Free for life if you sign-up before the offer expires, then the GrooveFunnels Silver plan, and then the GrooveFunnels Gold plan. The GrooveFunnels Platinum plan is an awesome plan to get while the offer is still available.
As of writing, the GrooveFunnels Platinum Plan can be accessed for life with a onetime payment of $1397. They also offer a 3 months payment plan, 6 months payment plan, and a 12 months payment plan. So not bad at all, you will find a payment plan that is suitable for your budget.
Payment plan 1- The 3-month payment plan will let you access the GrooveFunnels and features for free for the first 14 days, then pay $497 monthly for the next 3 months giving you a total investment of $1492.
Payment plan 2- The 6 months installment basis lets you pay $288 per month for 6 months giving you a total investment of $1728.
Payment plan 3- This payment plan lets you pay on an installment basis of $188 per month that gives you a total investment of $2256.
But if you will get the one-time payment and lifetime access of $1497, then you are saving a lot of money here.
All payment plans and all of the packaged plans mentioned earlier will give you lifetime access to software and tool plus upcoming updates and future features. So yes, it's a lock-in deal.
Get the LIFETIME FREE ACCESS NOW while the offer is still available. 
If you are on the online marketing, an affiliate, a business owner, a small or big business owner who wants to increase their profit, who wants to reach the dream customers by using a sales funnel, or simply if you are one on the list below then get your FREE GROOVE FUNNELS lifetime access now while the offer is still available.
Affiliate marketers (This is a great affiliate product you can promote and make money from it)
Coaches (Create and sell your course using GrooveSell and GroovePages)
Any business owners
Ebook creators (Sell your ebooks with GrooveSell)
Course Creators ( Get your members into the GrooveMembers only page and sell your course with GrooveSell as well)
B2B services
Funnel Hackers and Builders
E-Mail marketers ( Save your monthly fee by getting the Platinum lifetime access, you won't be paying for your autoresponder again! Unless you have a huge e-mail list of more than 25,000 then you will have another fee for that)
Ecommerce (Open your e-commerce store with GrooveKart and start making profits!)
Digital Marketers
 Why choose GrooveFunnels over other funnel builder platforms?
PROS
As you can see from my discussions above that GrooveFunnels or GroovePages is an all-in-one platform for all your marketing needs.
Free lifetime access now for the Lite Plan or one-time payment for the platinum plan. How amazing is that? No more monthly fees for using and creating a funnel.
Free and affordable plans
Easy Integrations with other applications, software, or tools.
Free autoresponder
Free unlimited domains and web hosting
Free funnel builder
Free many other features
User-friendly dashboard
Offers free training and tutorials
Good affiliate commissions
Cons
Since Groove Digital is still in beta, other features are still not accessible right now. But the basic and most important features like GroovePages are ready for you to use and get rolling!
REVIEW VERDICT: HIGHLY RECOMMENDED
Since I started my online business journey, I have been using Clickfunnels and paying $99 monthly for limited funnels, 20 funnels to be exact. Plus another monthly expense to my email autoresponder which in my account I am paying $150 monthly, and comes another yearly payment for my web host.
Just imagine how much I will be saving from now on since I am making the big switch.  In my opinion, GrooveFunnels is the best free and affordable alternative for Clcikfunnels.
Same is through on your case, if you have been paying monthly for a funnel builder, email autoresponder, web hosting, and other online marketing software and tools, then think again. You might want to consider this lifetime offer and save enormous money. This is a huge saving you do not want to miss!
To sum it up, I cannot emphasize more how awesome is this online marketing tool. Do I need to more evidence that GrooveFunnels is the best alternative for Clickfunnels?
What is GrooveFunnels? This is a funnel builder that lets you create sales funnels, landing pages, and many more for free. GrooveFunnels is under the parent company which is Groove Digital. Other Groove Digital products include GrooveKart, GroveAds, and GroovePay.
GrooveFunnels in my opinion is the newest and best all-in-one funnel builder that is more than just a funnel builder. With GrooveFunnels, you will be creating free funnels, free email autoresponder, free web hosting and so much more.
Imagine what you can do with GrooveSell alone, you can sell your digital courses here and have an overview of your profit, sales, refunds, and many more.
GrooveFunnels is the online marketing tool and software that offers everything in one platform. This is what you need now to start and grow your online business. GrooveFunnels is the best alternative for Clickfunnels.
Just to remind you again that GrooveFunnels is in beta now, and other features are lined up to be available soon.
Get your GROOVEFUNNELS LIFETIME ACCESS HERE. (Limited time only)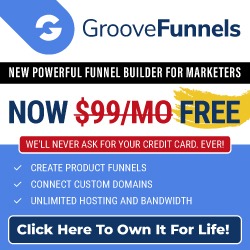 Affiliate Disclosure: This blog contains affiliate links. I get paid with a certain commission for every successful sale or sign-up WITHOUT any additional cost on your part. I am an independent affiliate marketer and is not in any way related to the personalisties and companies mentioned in this blog post.